I posted the below thread in response to this tweet from Marcy Wheeler (@emptywheel) promoting a blog post that mainly critiqued an article that has gotten supporters of WikiLeaks and Julian Assange excited. Her post included an aside about "propaganda" from "Pulitzer Prize winning NYT reporters" that turned out to link to this June 16 post ostensibly about me, entitled "Charlie Savage's Obfuscations in the Service of Claiming Julian Assange is a Journalist." I was not previously aware of this earlier post, which is all mixed up. I never claimed Assange was a journalist; in fact, I keep going out of my way to explain that whether or not he is one is irrelevant to the press freedom issues raised by the Justice Department's decision, in its precedent-setting superseding indictment, to expand on the hacking conspiracy charges it had already brought against him by adding Espionage Act charges for the his journalistic-style acts of of soliciting and publishing classified information. In case anyone reads that post and googles to see if I responded, I'm going to preserve the thread here.
—-
Marcy, I followed the link to your June 16 rant about my analysis of the significance of the expansion of the original hacking conspiracy case vs Assange, adding charges for the act of soliciting & publishing secrets, which I hadn't seen at the time. You are confused. /1
Most importantly, your headline and the thrust of your piece is false. I never pronounced Assange a "journalist." I instead discussed "his journalistic-style acts of soliciting and publishing classified information." Grasping the distinction is crucial to understanding this. /2

What matters about the decision to expand the original charges against Assange is the precedent of criminalizing such *activity.* It doesn't matter whether he counts as a journalist, a point I make over and over. /3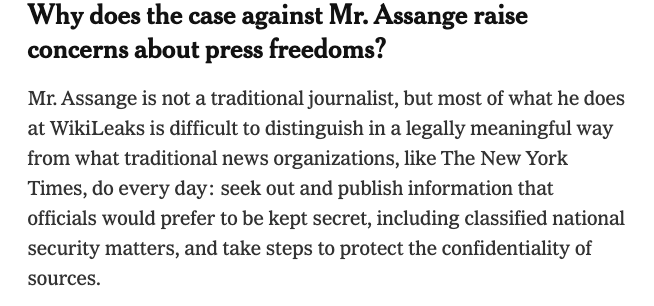 1st Amendment protections are not tied to being a journalist, so the risks *of the Espionage Act charges* against Assange don't turn on whether he was one. Weirdly you state this yourself deep in the piece, without seeming to grasp that this insight negates your argument. /4

Perhaps this is just another example of you wanting to ride a pre-existing hobbyhorse – in this case, wanting to detail what DOJ said about Assange and hacking – and using something I said as a peg to artificially sex it up (dumb NYT!) even though it doesn't actually fit. /5
But the linkage is artificial & incoherent. Had DOJ stuck with the hacking conspiracy charges in the original and second superseding indictment, the Assange case would not matter so much for press freedoms issues, as I laid out in a piece analyzing the original indictment. /6

P.S. This has little to do with anything @matthewamiller said in 2013. I have been writing since 2010 about deliberations inside DOJ re wanting to charge Assange/WL but grappling with the problem that traditional news outlets like the NYT also sometimes publish govt secrets./end

Originally tweeted by Charlie Savage (@charlie_savage) on June 28, 2021.
—-
Marcy stormily replied to several of the tweets in this thread. We went back and forth a couple times, creating spin off threads, but those subsequent messages aren't showing up in WordPress's automated unroll thread feature and added scant value anyway. People can click to Twitter check those strands if they want to read them.
---
UPDATE: posted without further comment